11. April 2019. - Happy birthday to Our very first "Z Angels' litter!
On today 6 years ago they born out of our queen, C.I.B. Cárok Öröksége Aphrodite "Samantha", sired by JCh. Ladianov aus dem Zarenreich. Happy birthday Our 'little' angels!
35. March 2019. - Salgótarján all breed CAC dogshow
;
judge Mr. Kotlár Róbert, HU
HJCh. Triumphator Yarkaya
got Excellent 1st, CAC and finally Best Opposite Sex (we are not waited the BOS-BIS)
Thank You very much to the judges and special thanks to Buzsáki Orsi & Viktor for the lovely photos and the great mood to all of my friends! Yarkaya's co-owner is dr. Éva Vadócz.
27. February 2019. "P" litter is born at kennel de l'Hermitage d'Eole
Now the time is here! Our Zarina is a granny and Samantha is a great-granny ♥️ Triumphator Yvonna Á Hermitage given birth to 9 beautiful and healthy Babies! 6 boys and 3 girls born Sylvie Guillon's kennel l'Hermitage d'Eole in France! Huge congratulations to this lovely family!
Informations:
WEBSITE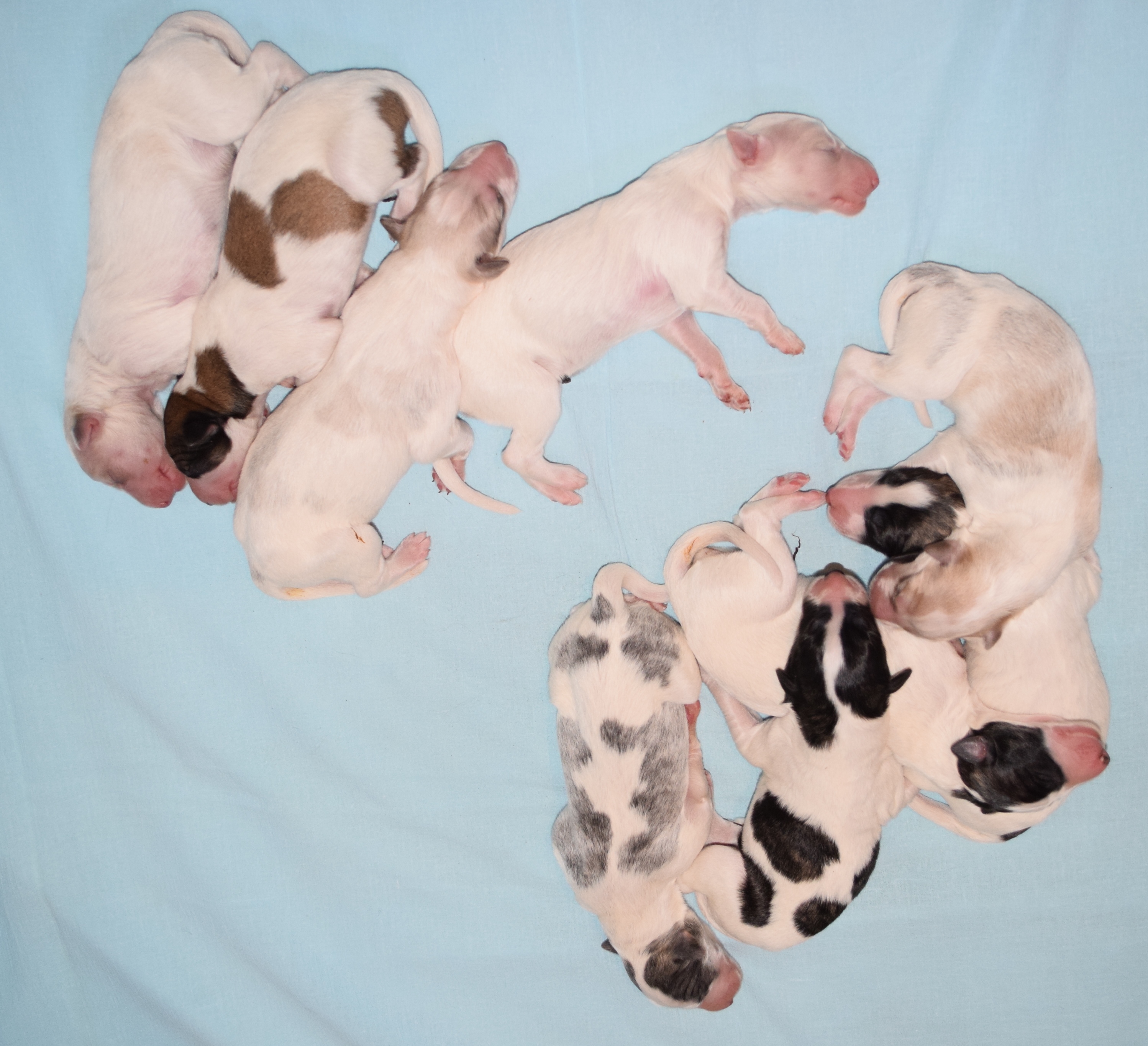 16-17. Februar 2019. Cluj-Napoca (RO) 2x CACIB & 2x CAC Show weekend
I've got lovely news from Krisztina Schultheisz - the owner of JWW. MultipleCh. Triumphator Yekaterina Sankovskaya "Babus"- that Babus travelled to Cluj-Napoca on this weekend to 4 dogshows. Our sweetest Babus made Romanian Champion title with style... She won Res.BOG, 4x BOB, 2x CACIB, 4x CAC titles!
Thanks a lot to the honourable judges: Mr. Refet Hadzic (BiH), Mrs. Dagmar Klein (RO), Mr. Lokodi Csaba Zsolt (RO) &
Mr. Cristian Vantu (RO)!!
Special thanks to Babuska's team: Csenge Pálocska (handler) & Ivett Braun (groomer) and of course last but not least to Schultheisz Krisztina (owner)!
16. Februar 2019. HAPPY BIRTHDAY TO Y LITTER!
We wish happy birthday to Our Y-s!
TRIUMPHATOR YEOVIL MITJA
HMPGW. HJCH.TRIUMPHATOR YAASRIEL YOREK
Cl.W.'18. TRIUMPHATOR YADKIN - PUTIN
TRIUMPHATOR YAHOEL
HJCh. TRIUMPHATOR YARKAYA
TRIUMPHATOR YVONNA Á HERMITAGE
TRIUMPHATOR YAROSLAVA
JWW. MultipleCh. TRIUMPHATOR YEKATERINA SANKOVSKAYA
TRIUMPHATOR YEFEFIAH YAKIRA
BestPuppy-WDS'17. HCh. HJCh. HPGW. HMPGW. TRIUMPHATOR YARASHIEL YEKAHEL
08 & 10. Februar 2019. FeHoVa Winterdogshow - Budapest CACIB Shows
Only one Triumphator started on only 2 days (8th of February & 10th of February), she is Our HJCh. Triumphator Yarkaya won 2 times CAC in intermediate class and second time CACIB & BOS; on the first time with Res.CACIB titles. So, she started her Internationale champion. Thanks a lot for the honourable judges Mr. Harsányi Péter and dr. Balogh Zsuzsanna! Special thanks to Yarkaya's co-owner and my mom for her excellent work on Sunday with Our little princess! Thank You for the proffessional photos to Szalánczi Gábor! - these photos show Yarkaya's true look.
January 2019. Just one of or photos what take one of our winter day